As part of America Recycles Day 2017, Hanover County will be hosting an special collection event on Saturday, November 18, 2017, at the Mechanicsville Solid Waste Convenience Center (located on Verdi Lane) from 8 a.m. to 12 noon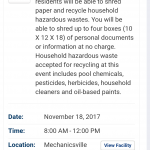 During this event, Hanover County residents will be able to shred paper and recycle household hazardous wastes. Residents will be able to shred up to four boxes (10 X 12 X 18) of personal documents or information at no charge. Household hazardous waste accepted for recycling at this event includes pool chemicals, pesticides, herbicides, household cleaners and oil-based paints.
**This event is open to Hanover residents only. Check with Department of Public Works staff directly (804)365-6181 for fee information, if applicable.