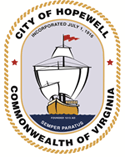 The City of Hopewell Department of Public Works provides city residents with curbside recycling and several drop-off recycling locations, a Citizen Solid Waste Convenience Center, and residential trash collection.
Please note that your curbside recycling cart is green with a yellow lid and your new trash cart is blue with a yellow lid.
| | |
| --- | --- |
|    |        |
|  Green Recycling Cart | New blue trash cart, no more green ones will be issued |
City of Hopewell FALL Cleanup
Keep Hopewell Beautiful in partnership with the Hopewell Public Works Department is till planning its scheduled FALL  Citywide Cleanup . Stay tuned for dates and cleanup flier.  Download 2017 Spring Cleanup flyer here.  Flier pending per City of Hopewell website
Hours of operation during the "Fall Clean-up" at the Citizen Convenience Center are:
12:30 pm to 6:00 pm Monday-Friday  (old information)

8:00 am- 6:00 pm on Saturday
Citizens are encouraged to participate in this effort by cleaning around their homes and along their streets. During this week, Hopewell residents may dispose of trash at no charge at the Citizens Convenience Center located at 507 Station Street, behind Fire Station #1. There will be the usual $10.25 fee for removal of the Freon to dispose of appliances.
See list on unaccepted items on the cleanup flyer- flier pending per City of Hopewell website
Firestone Tire located in the Cavalier Square Shopping Center is partnering with the City and will accept up to four (4) tires per person and batteries ( no limit) during the Fall  Cleanup Week.
Fore more information, please contact City of Hopewell Department of Development (804) 541-2220
.
Help make your neighborhood and city clean and beautiful.
County/City Programs
The City of Hopewell provides the following programs:
Bagged leaves are collected year round.
Spring Cleanup Week Event – offered annually.
Resources
The City provides the following resources for city residents.
Department of Public Works, 804-541-2294 or 804-541-2295
Litter and Recycling Program Managers Contacts
Curbside Recycling
Collections are every other week on Wednesdays.
Recycle More with CVWMA!  CVWMA accepts aluminum and steel cans, glass bottles and jars, mixed paper and cardboard as well as plastic bottles, cups, and containers with a #1-#7 on bottom, plastic lids and caps (rinse and replace cap on bottle and carton), and cartons such as milk, juice and egg substitutes are recyclable in our residential recycling (curbside) and drop-off recycling programs in our participating member localities.
NOT ACCEPTED: Plastic bags, Styrofoam, or food contaminated pizza boxes will NOT BE accepted for recycling. Recycle plastic bags at local retail stores.
Here is what list of additional items that can now be recycled through our residential recycling and drop-off recycling programs.
Download 2017 CVWMA Recycling Collection Schedule 
Download 2018 CVWMA Recycling Collection Schedule 
Drop Off Recycling Collection Sites
The City offers several drop-off recycling collection sites for residents to recycle. Accepted items include cardboard, mixed paper, aluminum and steel cans, #1 – #7 plastic bottles and containers, lids and caps, food and beverage cartons, and glass bottles and  jars for recycling.
Read City of Hopewell Hours of Operation and Guidelines here
Cavalier Square Shopping Center
Colonial Corner Shopping Center, 4100 Oaklawn Blvd
Hopewell Recreation Center, 100 W. City Point Rd
Fire Station # 2, 3400 Virginia Street, near Wilmington Ave.
Solid Waste Collection Sites