ALERT: Chesterfield County residential recyclers- your CVWMA collection day has not changed. Confused about receiving a 65 gallon gray recycling cart? Please call our Recycling Hotline at (804)340-0900.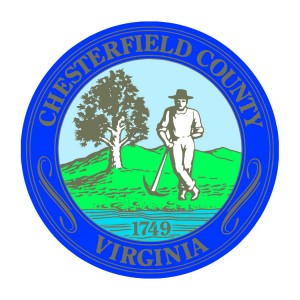 Chesterfield County offers residents a variety of recycling programs for residents as well as residential household waste collection sites. Some of the programs offered are through the CVWMA and others the county has procured with its own contractor. Recycling services are for Chesterfield County residents only.
Chesterfield Observer, July 16, 2014  Give a hoot: Recycling made easy in Chesterfield with CVWMA and TFC Recycling.
Curbside Recycling
Curbside Recycling is offered to more than 98,000 eligible homes. This program allows residents to recycle cardboard, mixed paper, aluminum and steel cans, #1 – #7 plastic bottles and containers, lids and caps, waxy milk and juice cartons, and glass bottles and jars in a single container, while deferring waste from local landfills.  The County put in place an annual fee of $25.00 (equals $0.96 per pickup) which is applied to each household to support this program. This fee will be included on the county's real estate tax bill, with $12.50 charged in December and the other $12.50 charged in June each year. The fee will be for all single family through quadplex homes and it to be paid by the homeowner.
If you would like to participate in the program, purchase a container, or request stickers for containers of your own, please visit www.cvwma.com or  contact the CVWMA at 804-340-0900.
CVWMA Announces Changes to Its Residential Recycling (Curbside) and Drop-off Recycling Programs Starting July 1.  In addition to all of the items already accepted starting July 1, additional plastic bottles and containers with a #1-#7 on bottom, lids and caps, and waxy cartons such as milk, juice and egg substitutes are recyclable in our residential recycling (curbside) and drop-off recycling programs in our participating member localities.
NOT ACCEPTED: Plastic bags, Styrofoam, or food contaminated pizza boxes will NOT BE accepted for recycling. Recycle plastic bags at local retail stores.
Here is what list of additional items that can now be recycled through our residential recycling and drop-off recycling programs. Download pdf here as CVWMA will not be updating our current 2016 Collection Schedule until mailing of the 2017 calendar in late December.
Drop Off Recycling Collection Sites
The county operates two Convenience Centers that provide a variety of proper recycling disposal options for residents. *Drop-off recycling containers are located at both of these sites and the same recyclables accepted through the Curbside Recycling Program can be recycled through the *Drop-Off Recycling Program. The County Drop-off Recycling Program is not through a contract with CVWMA.  Please call County staff (customer service team) directly for questions regarding this program.
Southern Area Convenience Center,  6700 Landfill Drive, Chester
Northern Area Convenience Center, 3200 Warbro Rd., Midlothian
Click here for Fee Information and Hours of Operation   or call the County's customer service at 804-748-1297 for more information.
Solid Waste Collection Sites