CVWMA offers convenient drop-off recycling collection sites to residents of central Virginia. Collection containers are located at thirty-six convenient locations in nine participating counties and cities. All of the drop-off recycling sites accept the same materials that are collected through the residential (curbside)recycling program. Items accepted include aluminum and steel cans, plastic bottles, tubs,  and containers with a 1-7 on the bottom, plastic lids and caps ( free of food residue and put back on bottle or carton), food and beverage cartons, cardboard, mixed paper, and glass bottles and jars.  The *instructional decals on the containers explain where to place specific materials. (*See new decal art below that in process of being printed and applied to containers below) . Remember, Styrofoam, plastics bags or food contaminated pizza boxes are not accepted.  Over 7,000 tons of recyclables have been recycled through this program this past fiscal year and not sent to area landfills.
Some sites feature the Mixed Item Containers; some sites also have smaller bins for newspaper, magazines and catalogs. Visit your locality page for listing of drop-off collection sites.
Recycle More with CVWMA!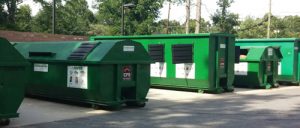 New Mixed Containers drop-off recycling decals for CVWMA roll off containers and FEL containers.