Please recycle ONLY the items described and pictured below under "Acceptable Items". Do not put other things in your recycling container, such as those listed under "Unacceptable Items". Unacceptable items will be removed and sent to a landfill; they may also contaminate (and make unrecyclable) the items we can recycle in this area. For information about why we allow certain items and prohibit others, please visit our FAQ.
No Need to Sort! Our residential recycling program is single stream. We don't require materials to be sorted. However, if you prefer to keep like items together to organize and contain your recyclables between collections, that's okay, too! Don't be alarmed if the items are mixed in the truck together. Everything collected by TFC Recycling will be separated at the processing facility in Chester. Recyclables collected by CFS and County Waste from City of Hopewell and Petersburg go to CFS Recycling Center in Petersburg.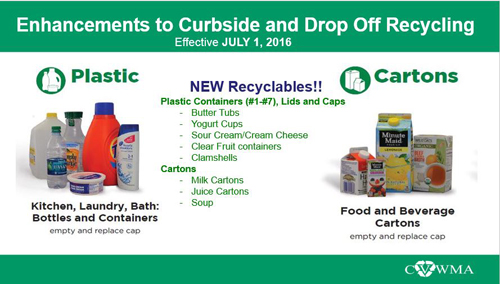 What's Recyclable in CVWMA Program
Recycle More with CVWMA.  In addition to aluminum and steel cans, glass bottles and jars, mixed paper and cardboard CVWMA accepts plastic bottles, tubs and containers with a #1-#7 on bottom, plastic lids and caps (rinsed and free of food residue and placed back on bottle or carton, not loose), and cartons such as milk, juice and egg substitutes are recyclable in our residential recycling (curbside) and drop-off recycling programs in our participating member localities.  Remember that plastic bags, Styrofoam, and food contaminated pizza boxes are not accepted.
Download 2017 CVWMA Recycling Collection Schedule 
Cardboard
Corrugated cardboard boxes- please flatten
Mixed Paper
Newspaper, magazines,catalogs, computer paper, junk mail, cereal and other paperboard boxes and paper bags
Aluminum  and Steel Can
Aluminum beverage cans
Metal cans, including food and beverage cans. Lids can be recycled too.Empty and rinse. Place the lid back in the can.
Kitchen, Laundry, Bath: Plastic Bottles and Containers
In addition to the milk and juice jugs,  soda & water bottles, shampoo bottles; detergent bottles that are accepted in our programs, starting, July 1 all plastic bottles and containers with a #1-#7 on the bottom will be accepted. Butter tubs, yogurt sour cream, clear clamshells, berry baskets, prescription bottles, etc. Empty, rinse, and replace cap before placing in your recycling container. Remember, Styrofoam containers are still not accepted. We do not accept motor oil plastic bottles either.
Bottles and Jars
Clear, blue,brown & green food & beverage glass containers. Empty and rinse. Remove and throw away metal caps/lids from accepted bottles or jars before putting them in the recycling container. Metal lids are not accepted.

Food and Beverage Cartons

These are made of plastic-coated paper or cardboard, and are now accepted. Milk, juice, soup, creamers. Empty, rinse  and replace plastic caps before placing in your recycling container. Here is a short video by the Carton Council on what new products that recycled cartons can be made into.

 

Plastic Lids or Caps

Plastic lids and caps are now accepted. Remove lids from accepted bottles or jars and rinse and replace cap before putting them in the recycling container. No loose bags of caps are accepted. The cap needs to be placed back on the bottle or carton to be recycled.

 
Do NOT Include These Items in Your Recycling Bin, Cart or Personal Container(s):
Please DO NOT include the items below.
NO Foam Products and Carryout Packaging
Including cups, takeout boxes, and packaging materials (like peanuts).




NO BAGS.

Do not bag recyclables in plastic bags. Plastic bags can cause equipment damage at the processing facility when they get wrapped around moving parts. Return plastic bags and film to retail stores. Recycle at local retail stores

 
NO Food-contaminated items
Such as pizza boxes or aluminum foil. Any food left on your containers may attract pests to your recycling bin. Food residue also contaminates the materials and make them unrecyclable.

 NO Hazardous Waste Containers

No flammables, motor oil, paint, or batteries are accepted.

NO Tanglers

No hoses, wires, chains or electronics are accepted.

Metal Caps
Remove and throw away metal caps/lids from accepted bottles or jars before putting them in the recycling container.
Recycle at home? Recycling not collected? Call CVWMA at (804) 340-0900 to speak with one of our customer service representatives for recycling assistance.