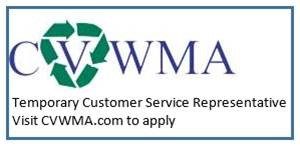 Job Title: Customer Service Representative
Closing Date: Continuous
Employment Type: Part-Time
Compensation: $13.00 Hourly
Primary Duties  
Receives and researches inquiries or complaints concerning solid waste services; does related work as required.
Essential Duties  
Considerable tact and patience to deal with the public; considerable ability to research pertinent information, to analyze the information obtained, and to arrive independently at a logical conclusion; considerable knowledge of current office/program procedures, forms and equipment; ability to present information clearly and concisely and to write effective business emails; ability to communicate clearly, effectively, and pleasantly with customers by telephone or in person; ability to work with a minimum of direct supervision; knowledge of or familiarity with automated systems and the ability to enter and retrieve data on an automated accounts system.
Proficiency in Microsoft Office products including Word, Excel, and Outlook. Must be able to answer multi-line telephone; ability to learn and adapt quickly to new procedures; ability to maintain complex records, follow complex oral and written directions; ability to interpret written material; ability to complete assignments accurately under stringent time limits.  Must have tact, good judgment, and good telephone manners.
Support duties to include data entry; assisting in education-public information; and creating and maintaining spreadsheets.
Education/Training Preferred
High School Degree or equivalent
Prior Customer Service or Call Center experience a plus
Desirable Traits
Exceptional written and oral communication skills, exceptional interpersonal, facilitation, negotiation, and diplomacy skills; Must be patient, pleasant, and understanding with the ability to remain calm and diffuse tense or angry situations. Must be flexible and work independently. Must be able to handle sensitive and highly personal information in a confidential and non-judgmental manner.
Physical Requirements
This job requires infrequent lifting or carrying of objects up to 10 pounds. In addition, this job requires the ability to sit for long periods of time.
Apply
Please submit resume via email to Sbreaker@CVWMA.com  No calls please.
This is not necessarily an exhaustive list of responsibilities, skills, duties, requirements, efforts or working conditions associated with this position.  While this list is intended to be an accurate reflection of the current position, the Company reserves the right to revise the functions and duties of the job to require that additional or different tasks be performed when circumstances changes (such as: growth, work load, inclement weather, changes in personnel, technological developments, et cetera).
Collection Vehicle Drivers
If you are interested in employment as a driver, please contact the companies contracted by CVWMA for collection, including the those listed below:
TFC Recycling (Tidewater Fibre Corporation)
CVWMA contractor for residential curbside recycling collection (804) 706-5877
Container First Services
CVWMA contractor for residential curbside recycling collection in Petersburg and trash collection in Colonial Heights, Hopewell and Petersburg.
County Waste
CVWMA contractor for residential curbside recycling collection in Hopewell and trash collection in Ashland.